Recent Photos of Point Lay, AK (LIZ-2)
2006 photos and notes contributed by George Patkotak
Notes by Clive Beckman:
The pics show the remains of Dewline Aux site Liz-2 after the govt razing. The entire module train and radar tower have been removed, ending a run of over 50 years for the grand old site. The hangar, runway, warehouse, and garage were taken over by Pt Lay village. (Pt Lay village is located a few hundred yards north of the Liz-2 Dewsite, and about 80 miles SW of Wainwright village which is located about five miles from the Liz-3 Dewsite.)
George Patkotak is the son of Billy Patkotak, a guy who began work on the Line back during installation in the mid-fifties, and remained on the payroll as an employee at Liz-3 until ITT lost the contract in 1990. I remember first seeing George as a toddler when he visited Liz-3 with his dad back in 1967. Hard to imagine him now as a grandpa (it was his son who took the Liz-2 pics). We chat via email on a frequent basis and, last year, I`d asked him to try and get some pics of the old site since he and/or family members travel to Pt Lay periodically to visit relatives. George was employed on the Dewline project for a number of years during the 1980s. Please credit him for the pics if you post them anywhere for public access.
The razing of the remaining Alaska Dewsites continues. Bar Main will have most structures removed by the end of this summer. I believe Flaxman Island (or Bullen Point as it is now called) Dewsite is also scheduled for this summer so I`m told. It has a SRR installed, which will remain. The Pow-1 site (Lonely AFS) also had a SRR installed but the sea is eroding the shoreline and will eventually claim the sites, both the old Dew site and the new SRR site. According to a friend who is employed on the Northwarning project, the SRR site has already been deactivated and will be removed along with the Dew site.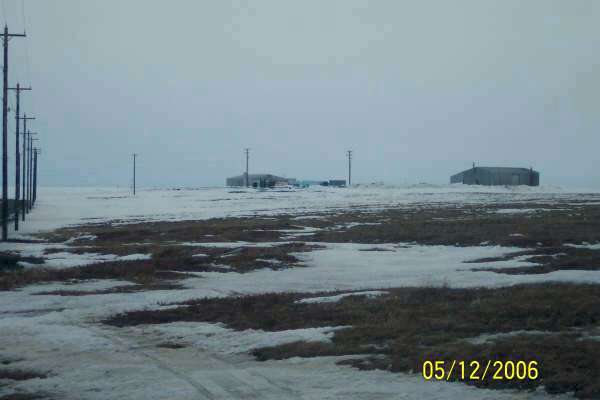 LIZ-2 hangar and warehouse seen from Pt. Lay village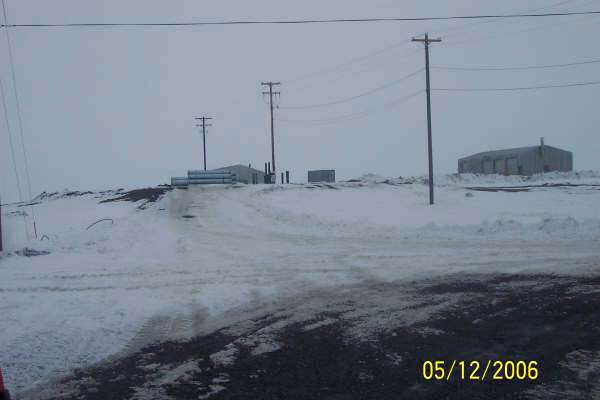 Warehouse & garage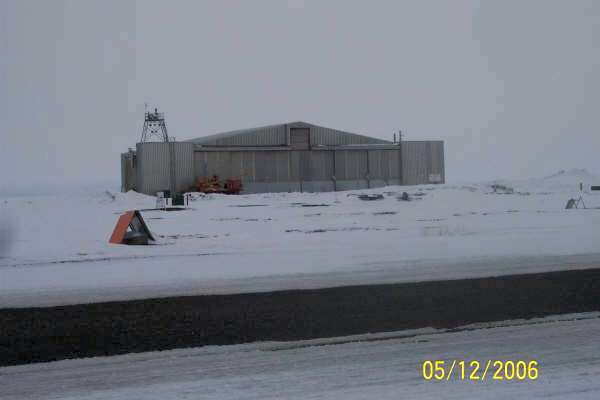 Hangar and runway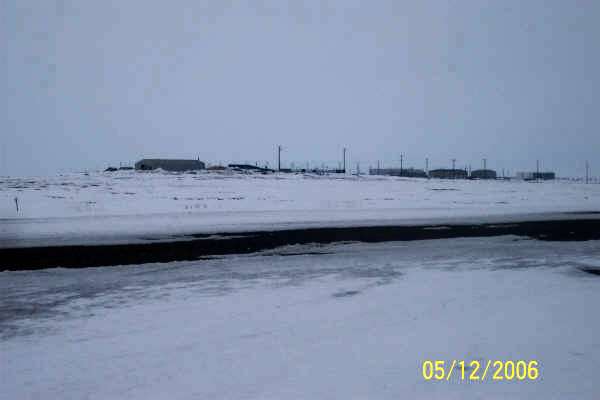 Runway, warehouse and Pt. Lay village