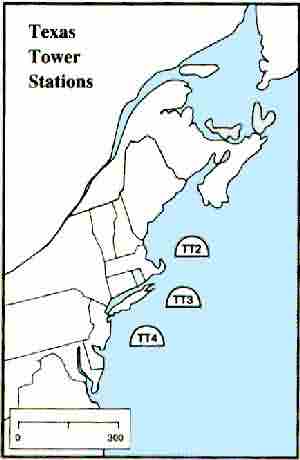 Texas Towers, so-called because of their resemblance to oil drilling platforms in the Gulf Of Mexico, were huge manned platforms to serve as radar sites. Five Texas Towers were were originally planned to be built off the Atlantic coast, extending radar coverage seaward. Three were eventually built, TT-1 and TT-5 were never built. Besides TT-4, lost in the tragedy, the towers never lived up to Air Force expectations.
The Air Force originally planned for the towers to be continuously manned by twenty-two men. This number proved to be grossly inadequate; by 1957, a crew, normally consisting of six officers and forty-eight airmen staffed each tower. Not only radar men, but also personnel for plumbing, refrigeration, medical and cooking chores manned the stations.
The Air Force occupied TT-2, 110 miles off Cape Cod, in December, 1955. Tower and crew alike suffered the effects of constant vibration from the rotation of the radar antenna and the diesel generators. The surrounding water, and footings driven into the ocean floor even transmitted distant sounds up the steel legs to be amplified through the whole structure.
The Texas Towers were originally equipped with one AN/FPS-3 search radars and two AN/FPS-6 height finder.