SCR-268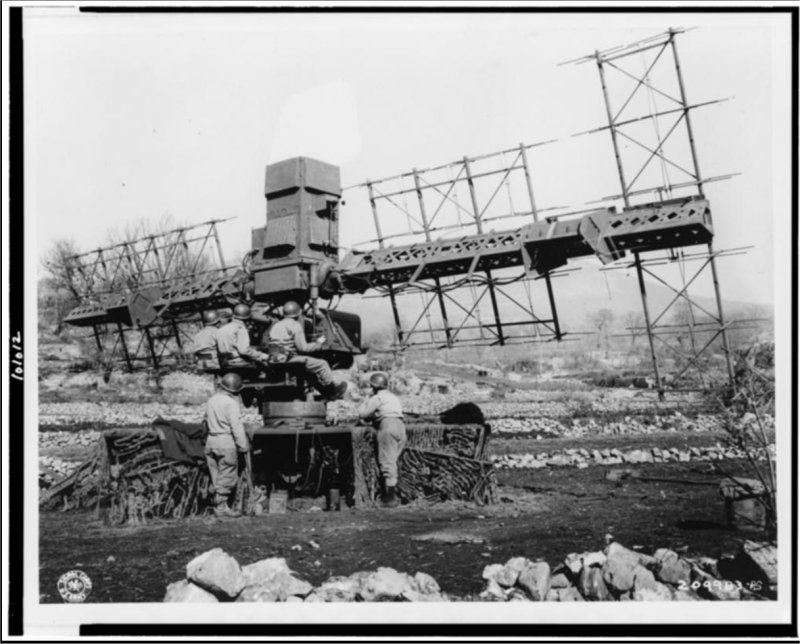 Radar in operation in the second World War / Signal Corps photo.
Radio set SCR-268 with five-man crew in operation on an Italian hillside.
Library of Congress
Oscilloscope operators with range scope at left, azimuth scope in middle, and the elevation scope at right. NADRM owns two of these scopes.
The SCR-268 antenna system consisted of a number of dipole elements arranged in three groups, each in front of a passive reflector, mounted on a large aimable cross. The cross consisted of a short upright pedestal sitting on top of a large base platform, mounting long cross-arms extending from the midpoint of the upright pedestal. The antenna system was about forty feet wide and ten feet high overall. Both the pedestal and the cross-arm could be rotated around their axis for aiming, in azimuth and altitude respectively.
The three radar operators sat at consoles mounted on the pedestal just below the antenna cross-arm, each with their own oscilloscope display. One controlled the azimuth, another the elevation, and the third measured the range. Pointing the antenna was controlled by rotating large handwheels, the range being reported by a similar wheel.
The accuracy of the antennas themselves was not very high, about 9-12 degrees, so simply rotating the antenna and looking for a maximum would not point it very accurately. To help with this the antennas were deliberately designed to have two directions of high sensitivity, or "lobes". Signals from both lobes were displayed, slightly separated, on the layer's displays. By adjusting the antenna until the returns from both were equally strong, accuracies of about one degree were possible. Source: Wikipedial