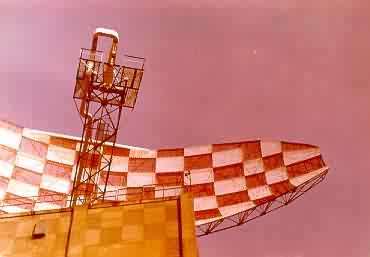 AN/FPS-35 at Montauk AFS, NY
This Sperry-built FD long-range search radar was designed to operate at 420 to 450 MHz. It was first deployed in December 1960, but problems hampered the program. Four of these units were operational in 1962. Eventually twelve (12) AN/FPS-35 radars would become operational in the US. The system suffered frequent bearing problems as the antenna weighed seventy tons.
Sperry Gyroscope built the AN/FPS-35, installing the prototype at Thomasville AFS, AL. The following links will display a Sperry brochure on the FPS-35. The brochure was obtained courtesy of Hagley Museum and Library.
Note: Photographs depicting the AN/FPS-35 search radar set and its internal components and assemblies are part of the Sperry Gyroscope Company collection (Pictorical Collections Accession 86.273) at the Hagley Museum & Library in Wilmington, Delaware. All photographs are black-and-white originals, taken by the radar set's manufacturer, Sperry Gyroscope Company, primarily at their Great Neck, Long Island, NY, plant; however, a few photographs were taken at Thomasville AFS, AL, where the prototype AN/FPS-35 was installed. "For additional information and driving directions to the Hagley Museum & Library, go to web site http://www.hagley.lib.de.us/. For more information about the AN/FPS-35 photos, contact Barbara D. Hall at e-mail bdhall@UDel.Edu.