Alaskan DEW Line Sites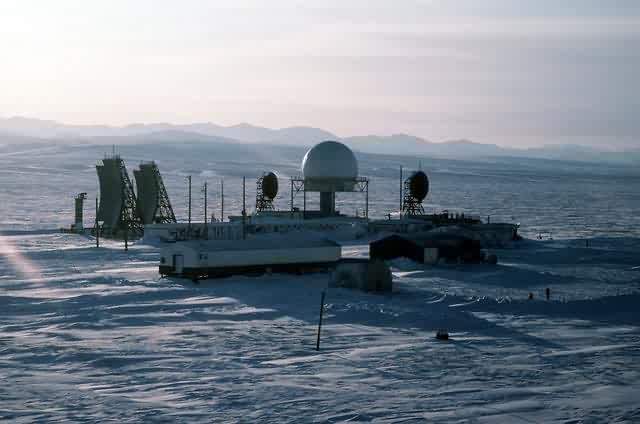 photo from the web site http://dodimagery.afis.osd.mil/
The following photos are from Larry Wilson's DEW Line web site.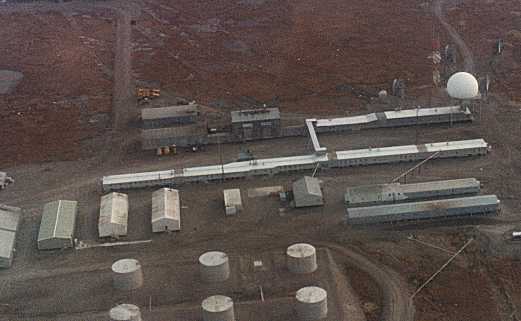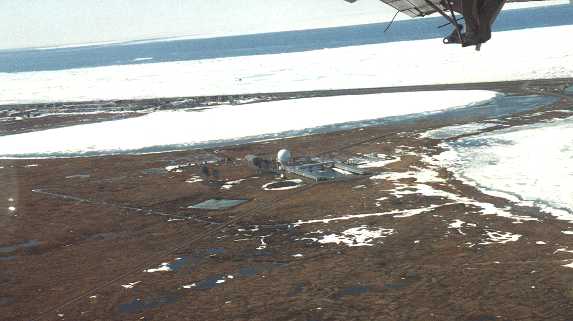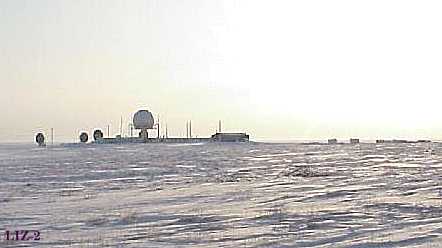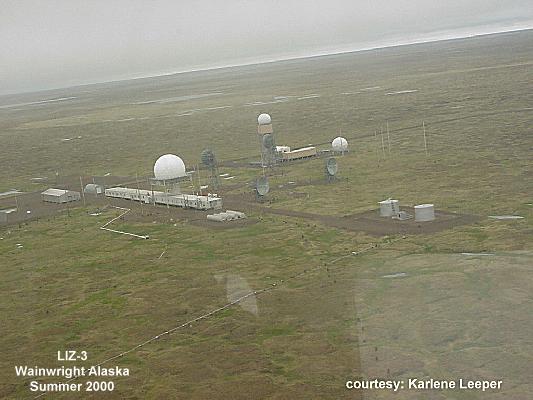 ---
DEW Line, Aleutian (COB) sites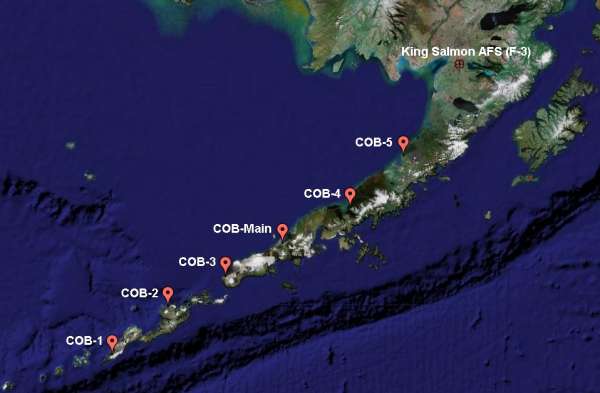 ---
DEW Line, North Shore (LIZ & POW) sites
---
The following table lists only the Distant Early Warning (DEW) sites located inside Alaska's boundaries (northern coast or Aleutian chain). For a more-complete look at the former DEW Line, see Larry Wilson's DEW web site at URL http://www.lswilson.ca/dewline.htm.

The DEW Line has been replaced by the North Warning System.
Site Name
Site Number
Squadron
Radar
Equipment
Activation
Date
Notes
Brownlow Point, AK
POW-D
FPS-23
Aug-57
Cape Lisburne AFS', AK
LIZ-1
711
FPS-3
Feb-53
Cape Sabine, AK
LIZ-A
FPS-23
Aug-57
Cape Sarichef, AK
COB-3
714, Det. 3
FPS-19
1959
Cape Simpson, AK
POW-A
FPS-23
1957
Cold Bay DEW, AK
COB-MAIN
714
FPS-19
30-Sep-69
Demarcation Bay, AK
BAR-A
FPS-23
Aug-57
Driftwood Bay, AK
COB-2
714, Det. 2
FPS-19
1959
Flaxman Island, AK
POW-3
FPS-19; FPS-23
Aug-57
Icy Cape, AK
LIZ-B
FPS-23
1957
Kogru, AK
POW-B
FPS-23
1957
Lonely, AK
POW-1
FPS-19; FPS-23
1957
McIntyre, AK
POW-C
FPS-23
1957
Nikolski, AK
COB-1
714, Det 1
FPS-19
1959
Oliktok, AK
POW-2
FPS-19; FPS-23
1957
Peard Bay, AK
LIZ-C
FPS-23
1957
Point Barrow, AK
POW-Main
FPS-19; FPS-23
1957
Point Lay, AK
LIZ-2
FPS-19; FPS-23
1957
Port Heiden, AK
COB-5
714, Det. 5
FPS-19
1959
Port Moller, AK
COB-4
714, Det. 4
FPS-19
1959
Wainwright, AK
LIZ-3
FPS-19; FPS-23
1957
---