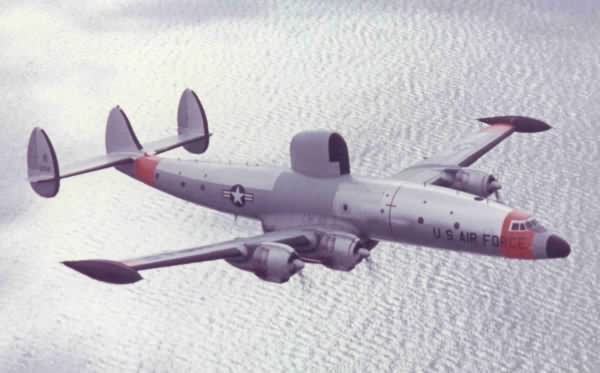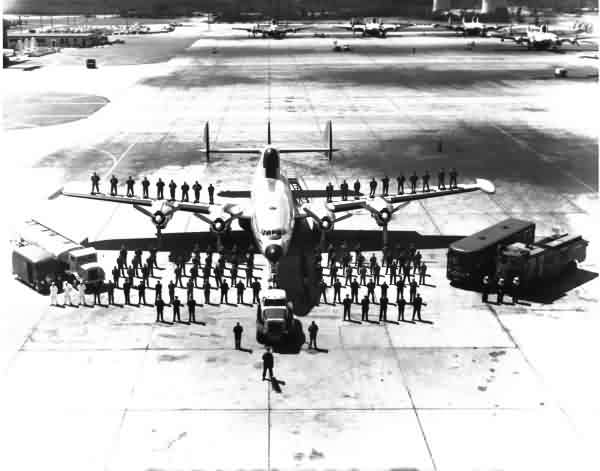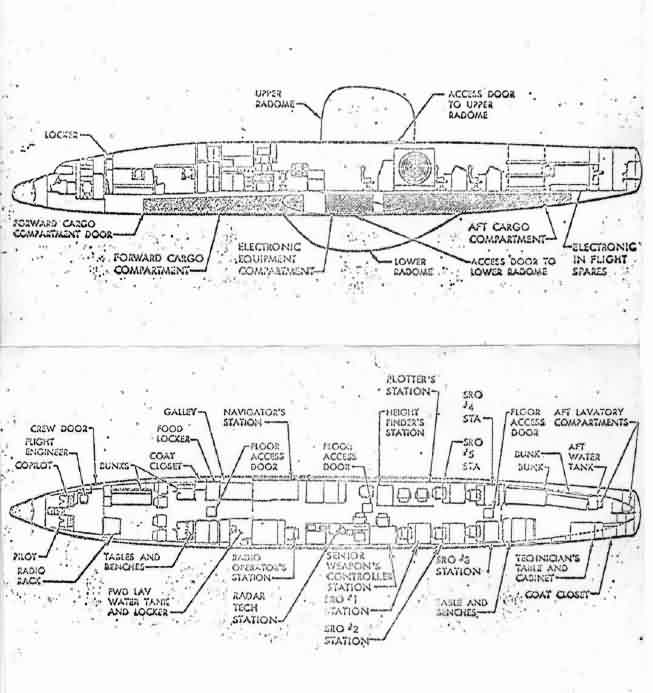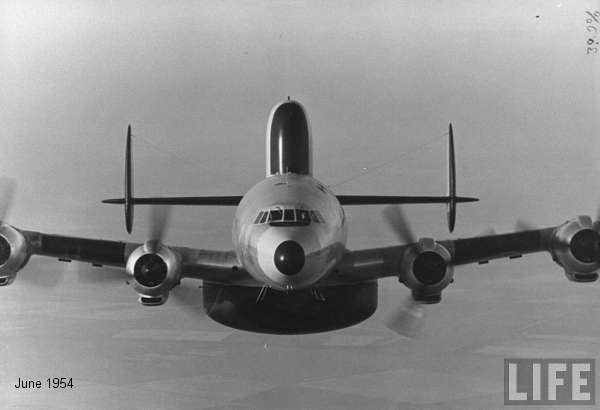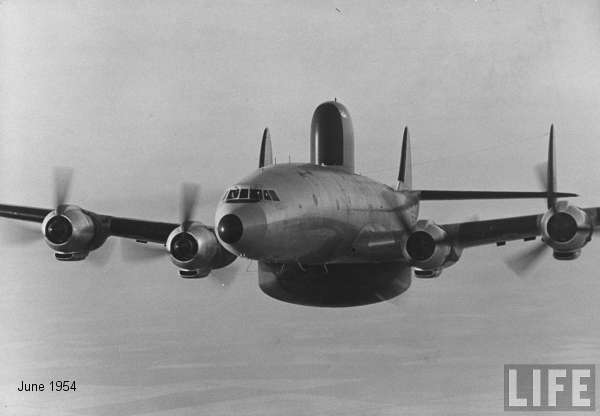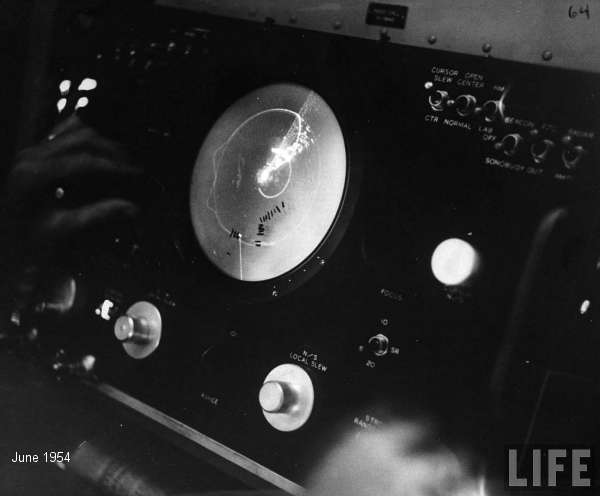 ---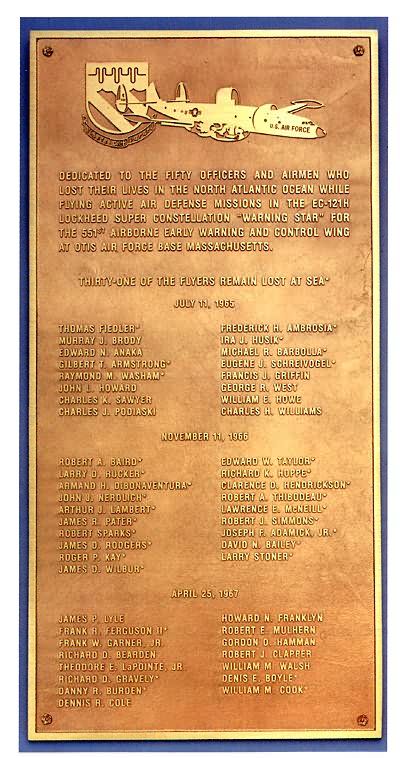 TRIBUTE
The fifty brave officers and airmen named on this Memorial Plaque made the ultimate sacrifice in the cause of peace and freedome while defending our Country.
These men, as did thousands of others before and after them, were crew members who flee the Lockheed Super Constellation C-121 aircraft named "Warning Star" of the 551st Airborne Early Warning and Control Wing at Otis Air Force Base, Massechusetts, on around the clock radar surveillance missions over the North Atlantic.
Three of the aircraft with these fifty brave men did not return from their missions and the North Atlantic became the final resting place for thirty-one of them.
This Memorial Plaque is dedicated not only to those who died, but to those four men who survived and to the parents, wives, and children of these honored men.
This Memorial Plaque also is dedicated to all the United States Air Force men and women who flew or supported the mission of the 551st Airborne Early Warning and Control Wing.
Plaque presented at Tinker Air Force Base, Oklahoma City, OK at "Connie Park", June 29, 2001.
ALRI (Airborne Long-Range Inputs) Sites
Pictured below are three out of the four Airborne Long-Range Inputs (ALRI) receiver sites on the East Coast. (The West Coast had none.)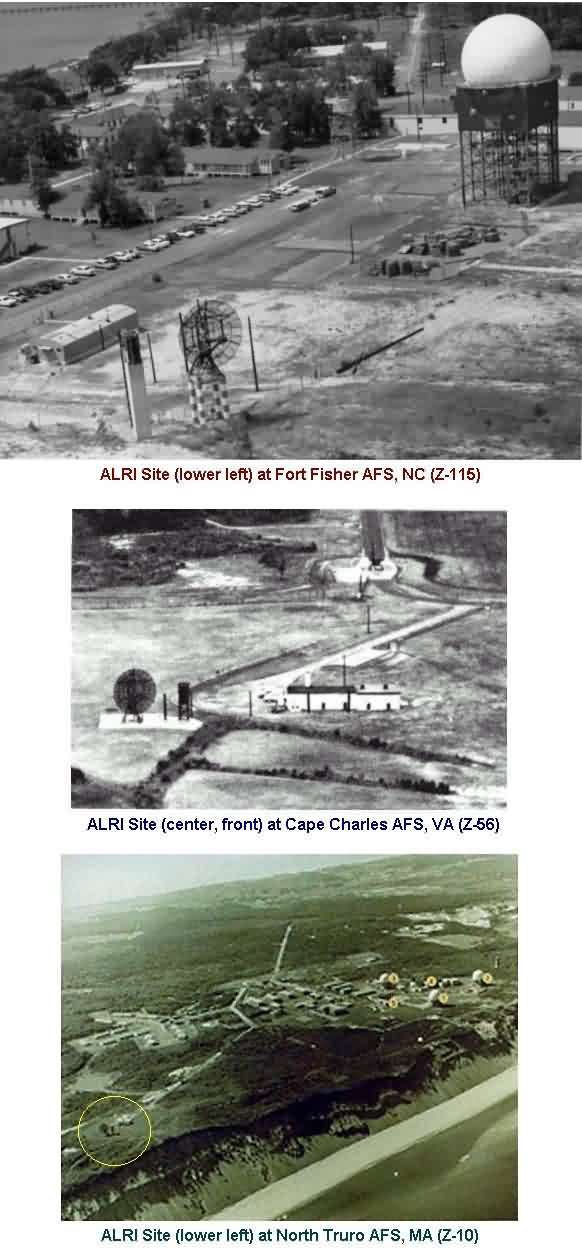 ---
AEW Picket Ship Locations
AEW - Picket Ship Locations, 30 Nov 1961
Pacific Locations
Location #
Latitude (N)
Longitude (W)
AEW-1
48° 25'
128° 50'
AEW-3
44° 50'
128° 00'
AEW-5
39° 45'
127° 30'
AEW-7
35° 40'
125° 30'
AEW-9
32° 10'
122° 10'
PS-1
50° 30'
136° 00'
PS-3
45° 30'
135° 30'
PS-5
40° 30'
133° 50'
PS-7
35° 30'
131° 50'
PS-9
31° 00'
128° 30'
PS-AUG
27° 30'
124° 30'
Atlantic Locations
Location #
Latitude (N)
Longitude (W)
AEW-2A
41° 30'
064° 20'
AEW-6
38° 15'
062° 20'
AEW-8
36° 10'
064° 40'
AEW-10
35° 00'
068° 15'
PS-12
40° 50'
063° 00'
PS-14
38° 00'
065° 50'
PS-16
39° 00'
070° 00'
PS-18
36° 00'
071° 00'
PS-20
34° 00'
073° 40'
Source: ADC Control & Warning Equipment Report, RCS: AF-1120, 30 Nov 1961 (U)
AEW designates Airborne Early Warning & Control aircraft orbit locations
PS designates Navy Picket Ship patrol stations
---
AEW - Picket Ship Maps
Atlantic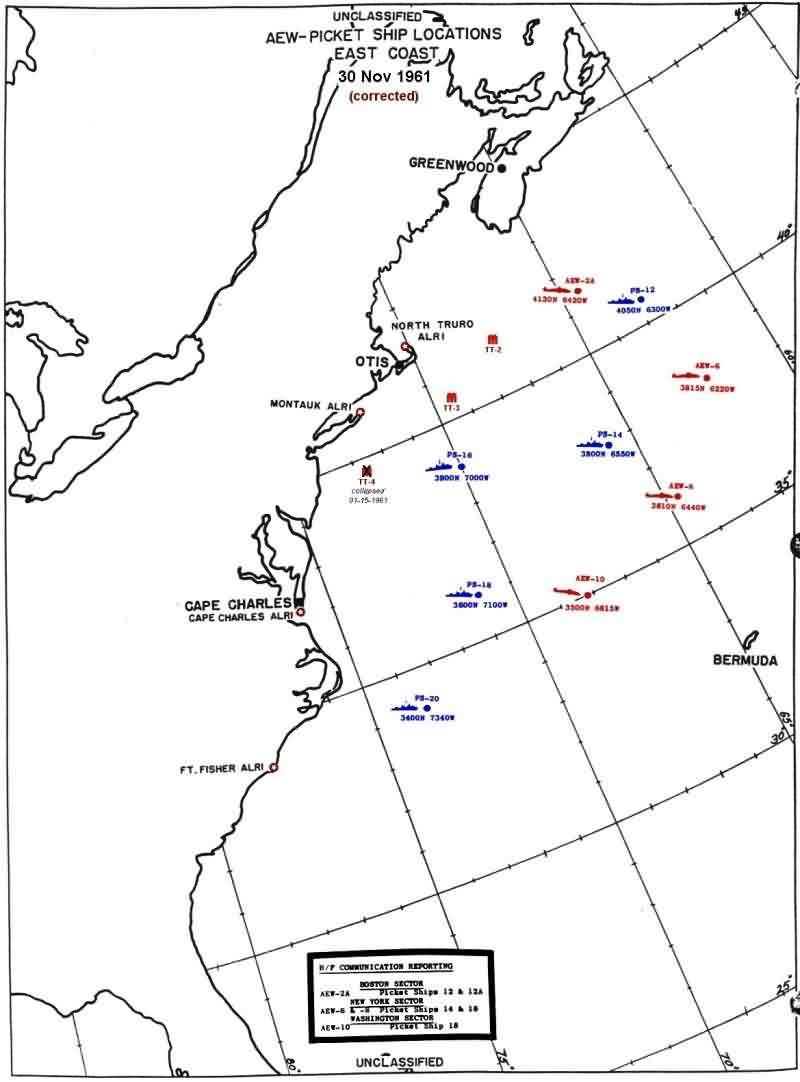 Pacific