Baker AFS, OR Radome Gymnasium
submitted by Lee Derrick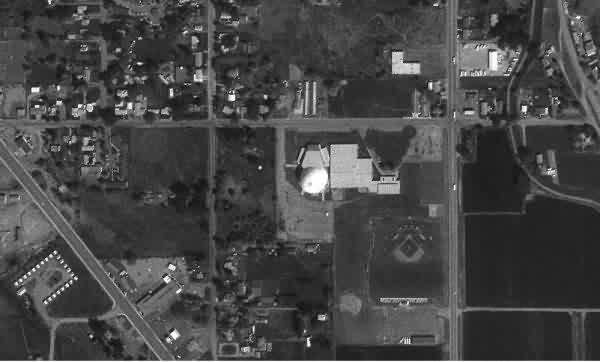 Aerial image of Payette, Idaho. The high school and radome gym is just right of the center. Note the size compared with the baseball diamond.
Terraserver aerial photo link: http://terraserver-usa.com/image.aspx?S=10&T=1&X=2530&Y=24396&Z=11&W=2
---

source: http://www.agilitynut.com/modarch/id.html

2005 photo submitted by Brian Sewell
My name is Lee Derrick and I am a teacher at Ontario High School in Ontario, Oregon. I has never in the Air Force nor stationed at the Baker Air Base, but I did know a lot of the people who were there because I met them playing ball against the airbase.
However, about the dome, well I have a few pictures but I can tell you for sure that the person you mentioned in your letter, John Campbell, can give you a lot of pictues, and let me explain.
In or about 1972 I became the head basketball coach at Payette (Idaho) High School. I was lucky enough to have a very good season in 1971 and wanted to move to a bigger school to coach. (I was coaching at a high school of about 90 kids) John Campbell, the Superintendent at Payette High School asked me to come to that area. However, when I visited the school I found the gym was in bad shape. Mr. Campbell promised that within thee years we would have a new gym. I went to Payette, Idaho as their basketball coach and within 3 years we had a new gym and won the league championship for the first time since 1939.
The bottom line is.....we won that Championship in a new gym that was once the Radar Dome located outside of Baker City, Oregon on the hill near Dooley Mountain.
Yes, John Campbell was most instrumental in getting the old Radar Dome and converting it into a a beautiful gymnasium which can still be seen in Payette, Idaho. John Campbell and another person who was an "expert" in the building of such a dome were the two most responsible for disassembling the dome on the mountain and bringing it to Payette and rebuilding it. It was quite a project and he and I got lots of flak, because as the Coach, I totally supported the idea. At first the community was furious, but it soon became the best thing that had happened to that community in decades... So the moral of the story, the Radar Dome that was put in Baker is still in use and doing quite well. It is the Pride of Payette.
John Campbell has lots and lots of pictures of it as he took it down, I did not participate but watched the action. (It looked like a scary job to me) Anyway, please let me know if the information I have given you is any help. I do not know the address of John Campbell, but his son is living in Paytte still, and a member of the City Council.
The dome in Payette was brought down basically by a few individuals who dared work on it. I did not have the courage. My dear friend and Superintendent commandered the entire operation. He actually climbed up on the dome and helped disassemble it. It was located on a concrete foundation about two stories high to begin with, and then the dome rested upon that foundation. So when you were working on the dome itself you were "up there". I was in the dome before it was taken down. I traveled there with our Superintendent to give him opinion about the possibility of it becoming a gym. I was very impressed and immediately saw all the possibilities. Then we had to sell the idea to the community; can you imagine what they thought? An Air Force radar dome to be taken down from a mountain and put back up as a gym. It was a fight but we won. They let me in on the designing of the gym. I had a fantastic floor plan but some of it was changed because of lack of funds. They decided to put in some classrooms. But anyway, it came out a beautiful gym. I will send you some pictures, some from the school newspaper and whatever I can find. This really gets me excited and I will help you, and thanks for letting me know about my old base. Yes, I have been back twice, my Son lives in Aberdeen. I have not actually visited the base, the first time I was there was in 1980 and I could not even get on the base. Last year I just drove by and looked, not knowing I could have stopped but I did notice some changes.
I teach American History and many times have used the Radar Dome in Payette as the subject of my lectures when discussing the "Cold War". I learned a little about the construction of the domes when we were into trying to get it for the gym. Tha story in itself is very interesting. Mr. John Campbell can give you all the details, for it was him and only him that made it possible. My only contribution to the whole affair amounted to say "Yes, it could be made into a beautiful gym."
I believe the old base in Baker City is currently being used to house people who have experienced trouble with the law. I am not sure about that, for a time I know it was used as a educational facility. But, anyway, I hope I have been helpful even though I was never stationed there, it is very interesting, and of couse I am interested in what you are doing. I too was involved in the "Cold War" situation, for I was stationed at a Naval Sonar Base in Pacific Beach, Washington. I wish somebody would do for us what you are doing for the Air Force Bases.
Thanks for including me.
Sincerely Lee Derrick
I can be reached at the following E mail addresses:
lderrick@ontariosdk12.or.us
or kcirred@uswest.com

A huge pirate signifies "the home of the Pirates" in Payette High School's mini-dome (sic) gym. The large picture was painted by Ann Christian, a graduate last year, while suspended from rigging about 75 feet from the gym floor. Ann completed the painting just before leaving for the University of Alaska where she is attending school this year. She is a daughter of Mr. & Mrs. Jim Christian of Payette.
Photo from the Payette (ID) High School "Cutlass", Sept. 20, 1974

The following three photos are newspaper clippings from August, 1972, and depict some of the dismantling of the Baker AFS radome.
From the IDAHO STATESMAN, Boise, August 3, 1975.